ELOPEMENTS ARE THE NEW WEDDINGS | HOW TO PIVOT YOUR PHOTOGRAPHY BUSINESS
It's no secret that elopements have become very popular in the last five years – just check out this stat on google search trends. And with the recent turn of events due to covid-19, we've been receiving EVEN MORE new inquiries from couples who've decided to cancel their wedding and elope instead. The fact of the matter is that hundreds of couples have had to cancel their weddings this year, but they still want to marry each other and have an epic day – as they should! Many are even finding this craziness as a reason to have the kind of wedding day they originally wanted.
HERE'S AN ACTUAL QUOTE from an inquiry we literally got while writing this blog post:
"For the longest time, we thought we'd plan a traditional 150+ wedding. The pandemic has helped us to reevaluate our values and priorities. We're hoping to take this unprecedented time by the reins and actually do what our hearts desire and to say our vows in front of each other without excess/distraction."
Weddings are great, we had a wedding ourselves and freaking loved it! But if we're being honest, elopements are just better for a lot of people. There's a reason (or like, a million reasons) why so many couples are choosing to switch to an elopement instead of postponing their wedding. So if everyone is switching to elopements, where does this leave all the wedding photographers? Times are changing and it's time to change with them, and we got your back! Through this article we'll outline the most important things couples are looking for in elopement photographers and how you can pivot your business to incorporate elopements along with your weddings.
Bonus – a lot of this info is applicable for other vendors in the wedding industry too. If you're a venue owner, wedding planner, hair & makeup artist, florist, etc. you can use this info to help provide elopement services for couples too. And the great thing about elopements is most of them are on weekdays, so you don't have to give up a precious Saturday for elopements 🙂
Check out our article with Rangefinder Magazine about how to write the email to your couples about the options of eloping with you!
1. Reach out to your couples before they reach out to another elopement photographer
Here's the deal, wedding planning looks a little different these days… instead of searching for the right table cloth for the reception tables, couples are researching ways that they can actually still get married during a global pandemic. And the number one thing they're finding is all kinds of beautiful inspo for elopements. If your couples had no idea what elopements were before Covid-19, you can bet they know alllll about them now. And they're likely weighing their options between postponing their wedding or having an elopement.
If you have weddings on the books that may be downsized or postponed, reach out to your couples first! Obviously YOU know that you'd love to help your couples elope and photograph their epic day – but how do your couples know that? You have to tell them! If a lovely little email popped up in their inbox from you letting them know that you can help, I guarantee you they'd be stoked!
If you're wondering "how do I email my couples about eloping?", keep it pretty simple and straight forward. Let your couples know what elopements are, why you think it could be a great alternative to cancelling, and that you're ready to help them craft and document their epic day. Even if you haven't photographed an elopement before, share with them your excitement to jump in with them and make the best of it!
Pro Tips for reaching out:
1. Remember the reason they hired you in the first place – duh, they love your work! They're going to feel more comfortable working with someone they already know and trust, and hearing from you that you're excited about elopements will help seal the deal!
2. When reaching out to your couples, let them know that they can always have their epic elopement this year AND postpone their reception party to next year for celebrating with their loved ones. It's a best of both worlds scenario and one that a lot of our elopement couples opt for anyway!
2. Be the elopement planner your coupleS need
We've read through THOUSANDS of new client elopement inquiries, and guess what the most common thing we hear from them is?
"We love that you help with everything"
It's so simple, but so important. When couples come to us they have wedding decision fatigue. They're tired of planning a wedding they don't love, and they have no idea how to plan an elopement because they've never been to one! But we are the Elopement Experts – we specialize in photographing AND crafting an incredible experience from beginning to end. Couples want to be in the hands of an expert, someone who has their back, someone who wants their day to be just as magical as they want it to be, and someone who knows how to help them put it all together.
If you're thinking to yourself "well how the heck do I help my couples plan an elopement?!" Don't fret! The planning part is actually really fun. You get to help your couples craft a day, and then you get to realize it with them.
A tip for guiding them through planning -> give them all the tools they need to plan their day, but let them do all the official bookings and vendor communication. An easy way to provide information is through a google drive doc with links to trail reports for location recommendations, marriage license and special use permit information for the place they're getting married in, your pinterest boards of inspo ideas, ideas for best towns to look in for lodging if your couples are traveling to elope, etc.
Communication is key! 
Throughout the entire planning process, check in with your couples to make sure they're doing alright. If you want to make sure you really are the expert planner, check out our communication email templates to planning an elopement with your couples. This template & guide comes with all the emails and questionnaires we send to our couples throughout the entire planning process to make sure our couples are truly taken care of.
3. Finding locations to elope in (even in a city)
One of the biggest hangups we hear from wedding photographers is that they live in some non-adventurous state with no national parks. But don't let that stop you! If there's one thing we've learned from traveling all over this country it's that there is beauty everywhere if you have the eye for it. Find a location that inspires you, photograph the crap out of it, and show your couples what's possible! Whether it's a downtown city park or rolling hills in the countryside, couples just need a good visual to help them see the potential of a location. And guess what – most national parks are closed right now anyway! So don't let your geographical location stop you.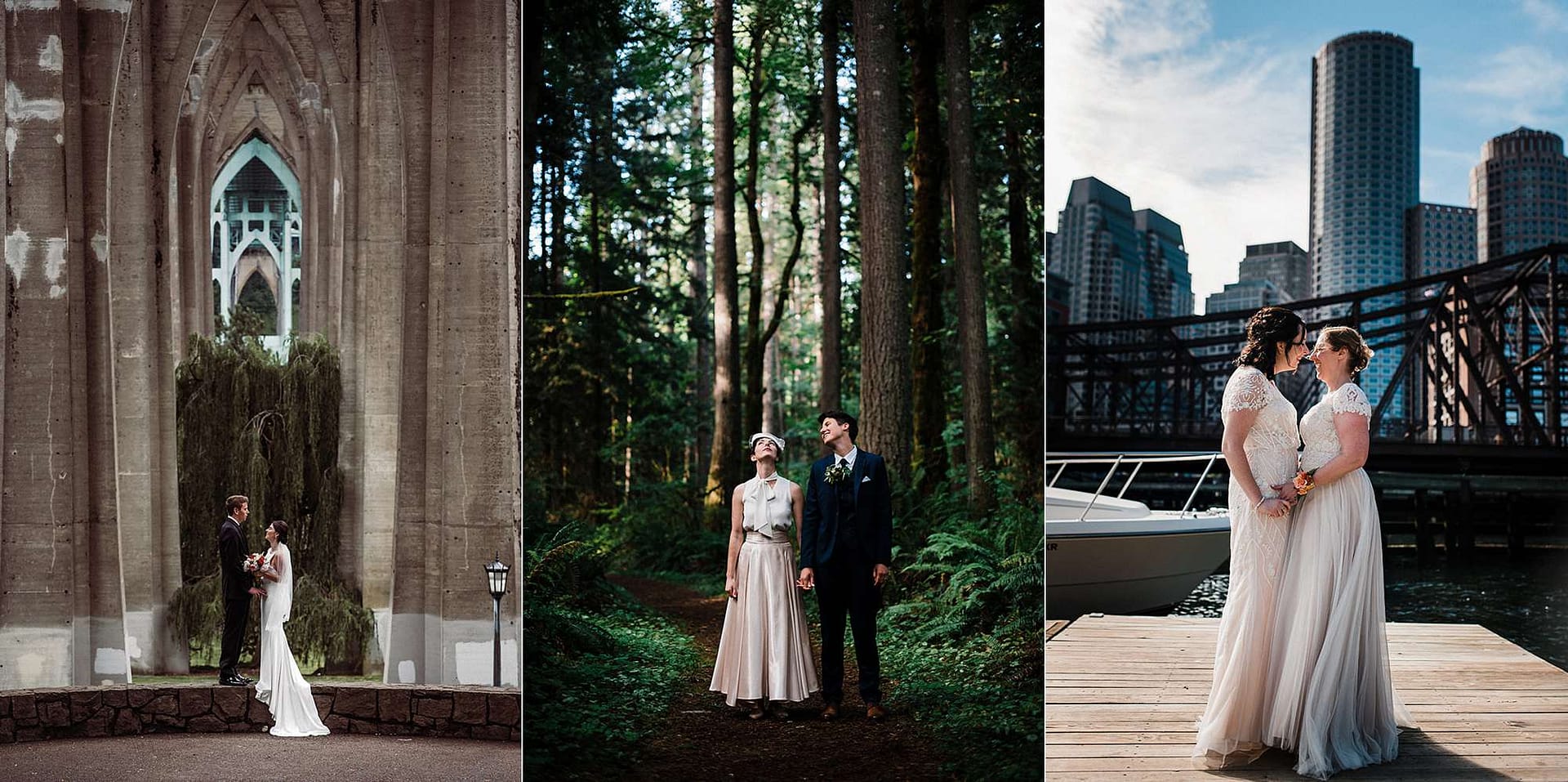 *Portland on the left, a state park in the middle, and Boston on the right. You can find all kinds of beauty in your back yard, whether that's a city or a little park. If you aren't able to access National Parks, show your couples the magic you can create in the places you do have access to!*
If you do have access to National Parks or National Forests, get out there now and start photographing these areas as much as possible! First of all, it's incredibly fun and one of the best parts of this job. But more importantly, we recommend exploring an area before the elopement (bonus points if you can get out there before even recommending it to your couple) because this ensures that the area you have in mind will actually be a good spot for eloping. Be the expert and make sure there's a good place for the ceremony and all the other fun things like picnics, sunset portraits, and mountain top dance parties 🎉
Our favorite go-to tools for pre-location scouting:
Alltrails – The ultimate hike finder! This has a great filtering system to find trails, tons of user photos, and trip reports to check on trail conditions.
Google Earth – We use this ALL THE TIME. It's a great way to visualize the entire trail. Often times you can drop a photosphere to see panoramas from exact locations on the earth.
Park websites – When you do find a location you think would be great, make sure you read about everything on the park's website. This is where you can find out if it's closed and what kind of permits you need.
This one is SO important. Leave No Trace is a set of ethical guidelines to follow when in the outdoors to help protect public lands. As professionals that work in public lands, it is our responsibility to be great stewards of the land, practice these principals in our work, and educate our clients on how to practice them too. Starting the beginning of your planning with these guidelines is important so your couples are conscious of them as they begin planning their day.
In short – it's our duty to respect the land we're documenting elopements in to ensure that our impact on these fragile places is minimized. We want these locations to looks just as incredible and beautiful for everyone who visits in the future!
4. Make an entire day of it
At the end of every elopement we always hear our couples say to each other "this was the best day ever, I wish it wouldn't end." Why is it the best day ever? Because we make it a FULL VALUE day, just like a traditional wedding would be. Except instead of getting ready photos in a hotel room, it might be in a fire lookout. Or instead of bridal party photos, we'll be taking hiking shots. But whatever you do, don't let your couples settle for a dinky 2 hour ceremony and portrait session. This is still their wedding day and they deserve to go all out for it. Help your couples include more meaningful elements in their day and go full value! Creating Pinterest boards that show extra things folks can include in their day will help so much!
Here are some fun ideas to share with couples to incorporate into their day: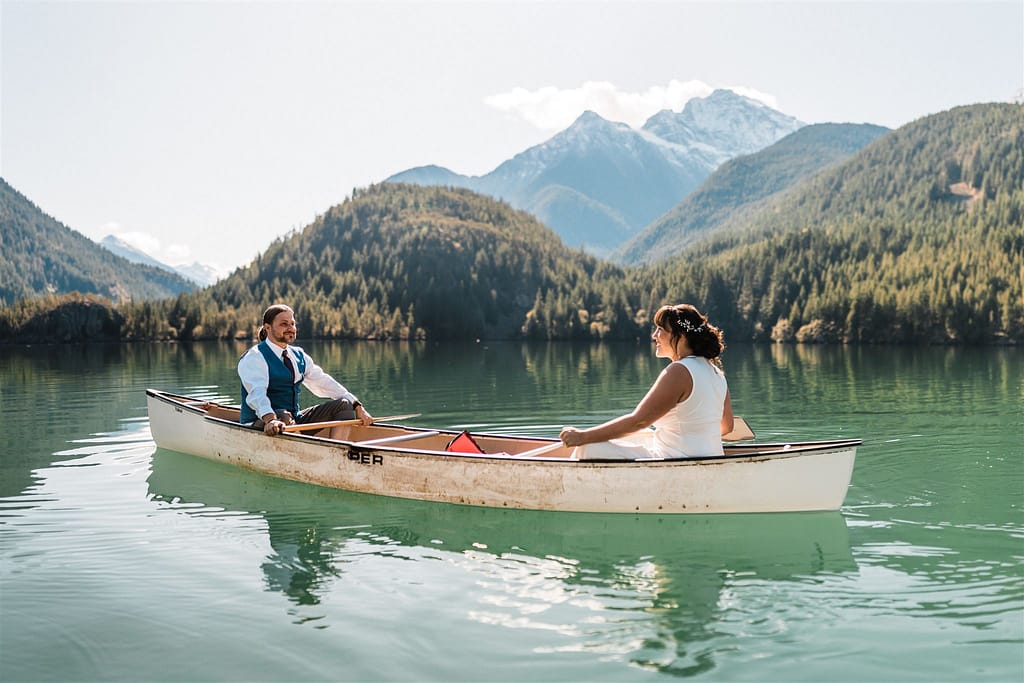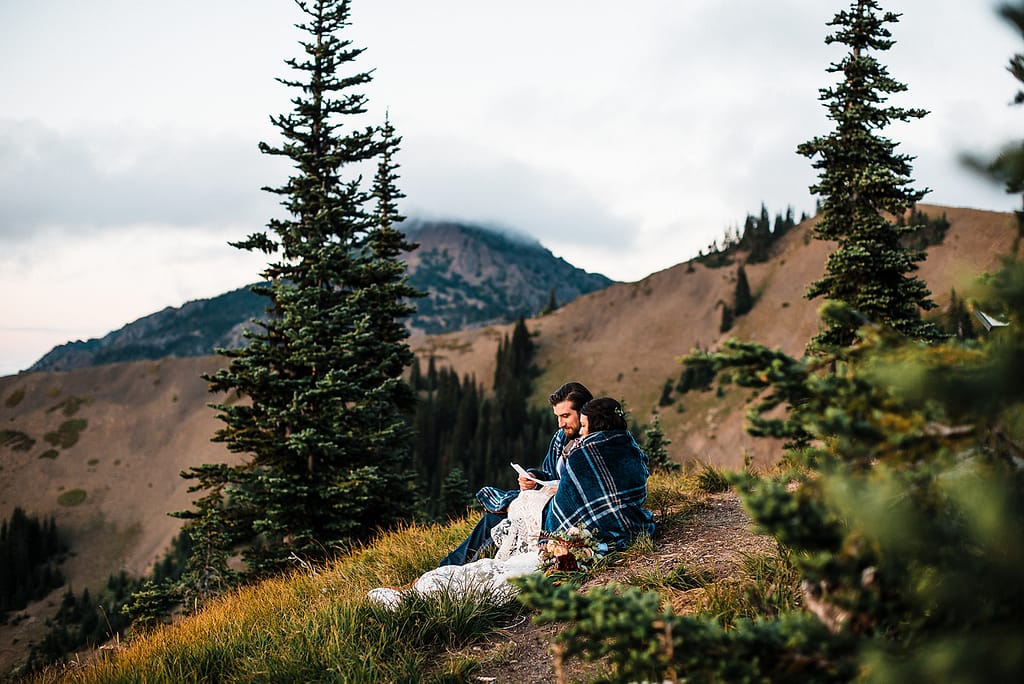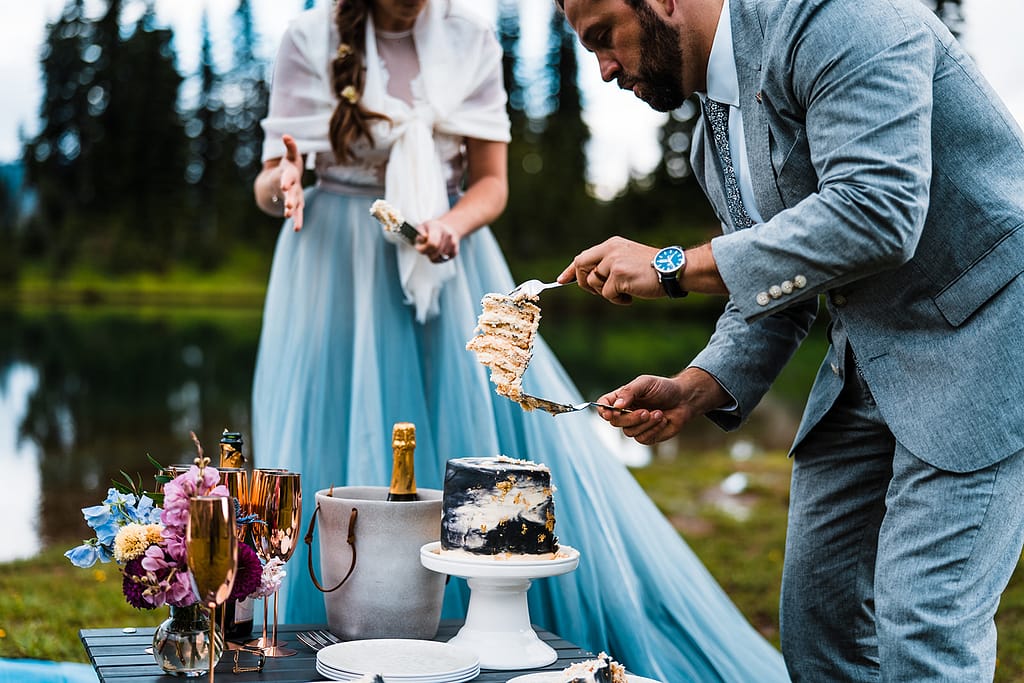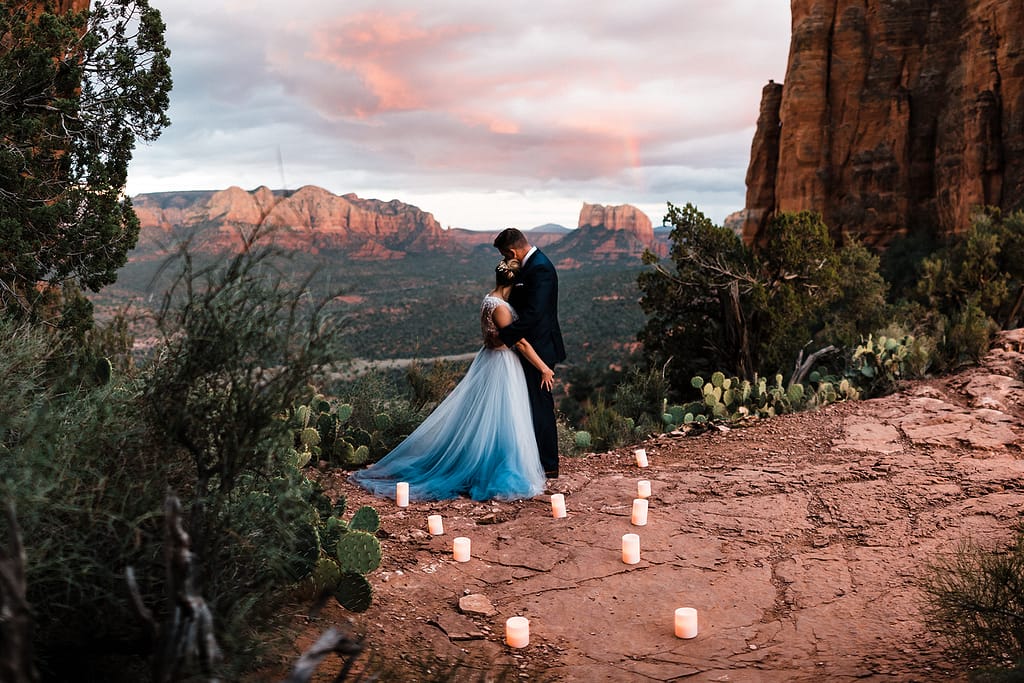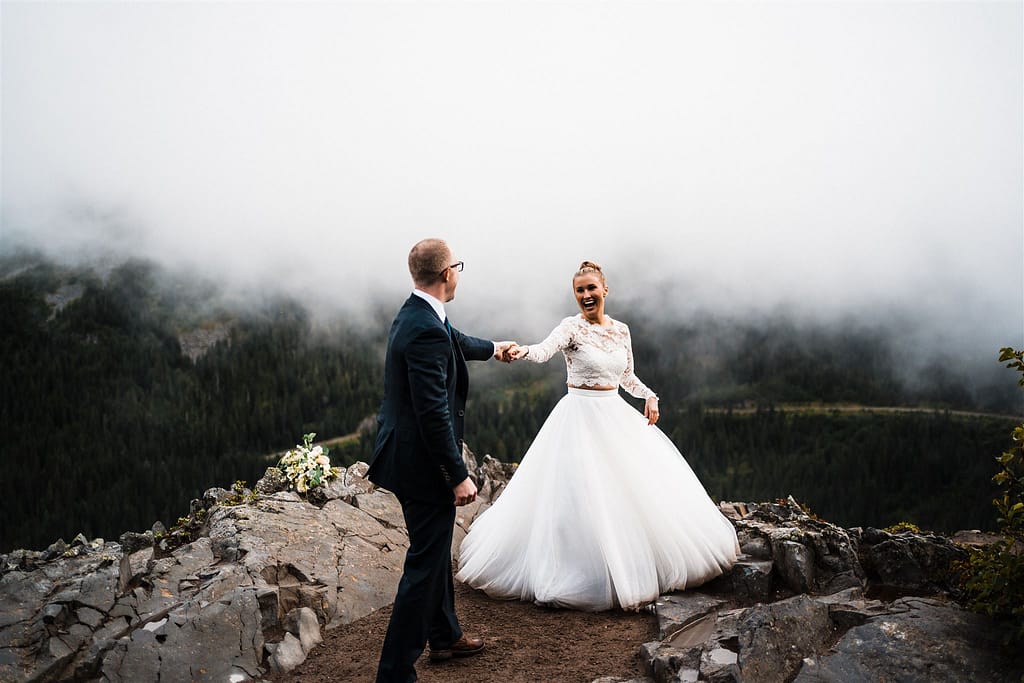 BONUS: Figure out creative ways to include other vendors they had booked for their wedding! If your couple has been working with florists, caterers, bakers, venues, airbnb rentals, etc. there might be a great way to keep on the team for their big day or throwing a smaller party to celebrate after the elopement.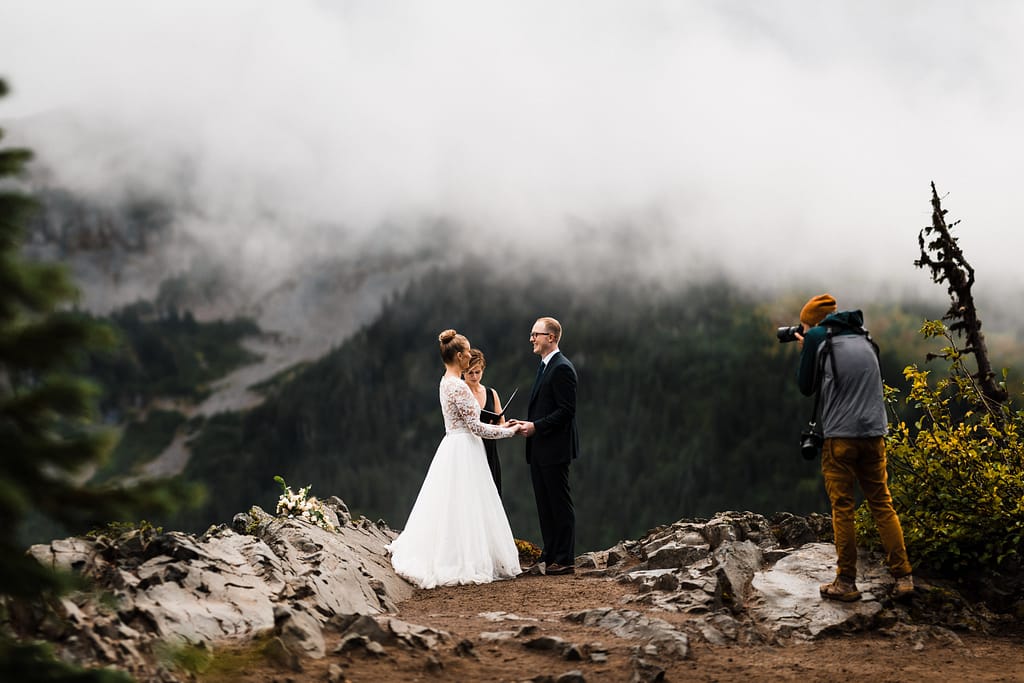 5. How to photograph couples in landscapes
Alright, so you've helped craft the most incredible day for your couple, now comes the time for you to document it beautifully. You want to walk away with a killer gallery that will make your couple weep with joy AND showcase your incredible work for all those future elopement you want to book! But obviously photographing elopements is very different than weddings, and that's where our helpful photography tips come in. If you haven't noticed… capturing couples in landscapes is kinda our thing 😉
Here's a few quick tips for getting started:
1. Don't focus solely on just the landscape, or just the couple. Be creative with compositions that can highlight both. 2. Shoot wide, but not too wide. Find the right balance between capturing an entire scene without your couple getting lost in it. 3. The right lens can make all the difference! 4. Find a natural stage in your environment to make your couple pop. 5. Love the great outdoors – actually get out there on your own time to appreciate the places you're working in.
6.
Practice makes perfect.
For real though, shoot all the time and really practice your techniques.
Check out our full article about photographing couples in landscapes in Rangefinder Magazine
Bonus: Believe in yourself
Pivoting your business is scary – we know first hand. We pivoted ourselves when we decided to switch from urban weddings to adventure elopements back in the day. But once we jumped in full force, we never looked back. We mean it when we say that this is the best job in the world, and we know that there are SO MANY photographers that would be incredible elopement photographers too.
And if those doubts and fears and negative thoughts start creeping in… just remember that you are already a business owner. You are a creative, you are an artist, you are a photographer, you document love stories, you are already more than halfway there to becoming an elopement photographer. You sooooo got this!
Hope you're enjoying all these nuggets of knowledge.
Join the Foxes adventureprener fam
Join our community of adventurepreneurs. We'll send you updates on new blog posts, products, courses, workshops, and discounts.
There are two major questions creatives and small business owners are asking themselves right now: 1. How do we make money during quarantine? 2. What should I be doing now to best set my
Read More »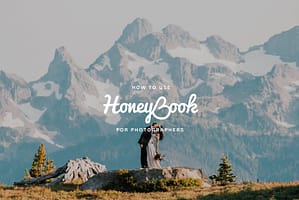 Honeybook features live demo 50% off your first year and a free email template 6 BEST HONEYBOOK FEATURES FOR PHOTOGRAPHERS We've tried and tested many different CRMs, dubsado, tave, studio ninja… but Honeybooks is
Read More »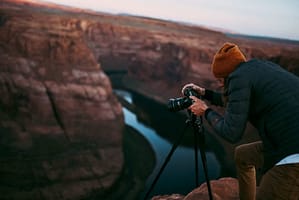 COOL PHOTOGRAPHY GIFTS FOR ADVENTURE PHOTOGRAPHERS We put together this list of cool photography gifts for adventure photographers so you can find the perfect gift for the photography lovers in your life. We've included
Read More »